Posted Tuesday, 7 July, 2015 by Sarah John
BBC Get Creative asks Isabel H Langtry why all artists should have naked ambition
BBC's arts editor Will Gompertz meets people who pursue a creative passion in their spare time.
Why do artists draw from nude? Isabel H Langtry, sculptor and Principal of Get Creative champions Hampstead School of Art, told us why artists have been fascinated with the human form across the centuries.
It's a question I am often asked, "why do artists draw from the nude"
The short answer is, the human figure offers all the complexities an artist needs to learn in order to be able to conquer any drawing subject.
But why? Well, the longer answer goes like this…
Every time a model makes a move, there's something to learn and work on. Shadows and skin texture, the way the limbs move, extend. Every pose or position, reveals a whole new composition, and another focus for a drawing. A great range of movement is possible, right in front of you, which combined with the anatomical and structural complexity of the body, make particular demands on us when we draw.
Stop, Look and Listen
The most important thing, teachers will focus on, is the act of looking. If you think this seems obvious, it's actually very difficult to draw what you are seeing. Our brains are constantly making things up, joining the dots and creating assumptions, as to what we are looking at seeing.
So, holding the brain back, becomes an important part of the process. Looking for only five continuous minutes, before you begin to draw, can make a real difference to the quality of your work. Let your eye scan the proportions, make comparisons with shapes, measure the proportions with your pencil, come to an understanding about what you are looking at, in the moment.
Why not work from a photograph? Photographs do not offer the subtle variations that are available when you are drawing directly from life. The vantage points possible when drawing from life that, enable us to grasp the three-dimensional form of the body are not there. The very best photographs can provide lots of lovely surface detail, but not the weight, shift and gesture of the life model.
And another thing, the group experience of drawing from the life model helps us to learn faster. Training the eye, and responding to what we see, are great fun when we work together.
Many artists draw from the figure in order to draw non-figurative art better. As humans it is only natural that depicting our form should play an important role as subject matter. Built into that is the instinctive emotional response we experience when studying another person, and many artist's use this response in a dramatic, personal way, a chance to develop a personal visual languageAs humans it is only natural that depicting our form should play an important role
Is one course enough? Many artists continue going to life drawing class to keep their skills developing, beginner's benefit from learning and many of us do it for the sheer fun and satisfaction.
It's definitely good for you, give it a go.
Will Gompertz Gets Creative is on BBC Radio 4 on Saturday 11 July at 10.30am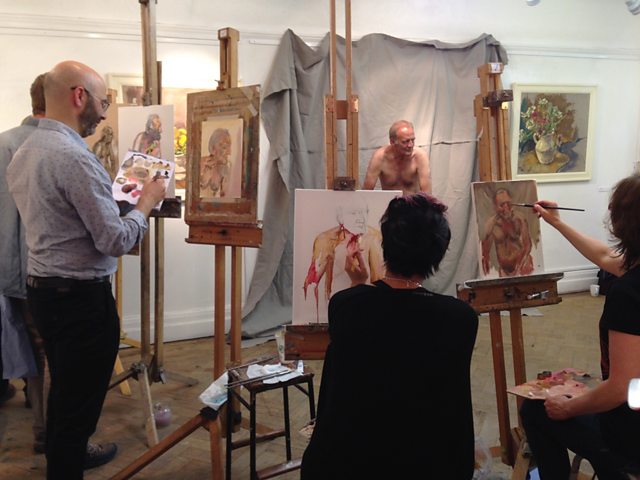 A life class at HSoA with Tim Benson